Site Notice
Due to recent vandalism, all edits performed by IPs and new users will be reviewed before being published. This means it might take some time for your edit to show up.
New accounts also have to be confirmed before being created.
If you have any questions, contact one of the staff members on their talk page, or on the Discord server.
Union
Jump to navigation
Jump to search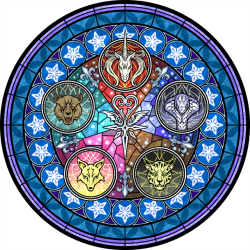 Unions are the five factions led by the five foretellers. The five foretellers are Keyblade Masters, apprenticed to the same Master and each bestowed with a copy of the Book of Prophecies. Each foreteller has an associated animal, and hides their identity behind a mask representing that animal. In addition, the foretellers represent one of the deadly sins, as hinted by their names. The two sins not represented in the foretellers are "Luxuria" (Lust) and "Superbia" (Pride).
Anguis (アングイス Anguisu)
Leopardus (レオパルドス Reoparudosu)
Unicornis (ウニコルニス Unikorunisu)
Ursus (ウルスス Urususu)
Vulpes (ウルペウス Urupeusu)
Joining A Union[edit]
After the introductory cutscene and character creation, you'll be asked to join a Union. Each Union is similar to a game server in that you have no contact with anyone in the other Unions. If you are planning on playing with friends, it is advised that you all join the same Union.
Weekly Union Ranking[edit]