Site Notice
Due to recent vandalism, all edits performed by IPs and new users will be reviewed before being published. This means it might take some time for your edit to show up.
New accounts also have to be confirmed before being created.
If you have any questions, contact one of the staff members on their talk page, or on the Discord server.
Enraged Arachnid
Jump to navigation
Jump to search
Enraged Arachnid
マリシャススパイダー, Marishasu Supaidā
Malicious Spider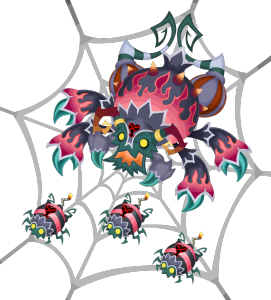 Attributes

Main Body

Left Spider


Middle Spider


Right Spider


Spinneret
Enraged Arachnid is a Raid Boss which can be fought in in Kingdom Hearts Unchained χ / Union χ.
Availability
[
edit
]
Enraged Arachnid can be summoned in several Story, Special, and Event Quests. For a full list of quests that summon an Enraged Arachnid, see Category:Enraged Arachnid Quests.
| Difficulty | Victory | MVP/Host | All Points Defeated |
| --- | --- | --- | --- |
| LV 1 - 9 | | | |
| LV 10 - 29 | | | |
| LV 30 - 99 | | | |
See also
[
edit
]