Site Notice
Due to recent vandalism, all edits performed by IPs and new users will be reviewed before being published. This means it might take some time for your edit to show up.
New accounts also have to be confirmed before being created.
If you have any questions, contact one of the staff members on their talk page, or on the Discord server.
Daily Challenge Event (9/14/2016)
Jump to navigation
Jump to search
| | | |
| --- | --- | --- |
| « | Daily Challenge Event | » |


Maps: Flower Glade
AP
Level
Raid Boss
10
50
Behemoth
Target
Pretender
EN Objectives
Complete without opening treasure chests
200 Jewels
Defeat 5 or more enemies
1 Dale 5★
Complete without having to continue
1 Dale 5★
EN Quest Rewards
Materials
None
9 Curative Leaf
4 Curative Flower
3 Spring Water

JP Quest Rewards
None

Daily Challenge Event in Kingdom Hearts Unchained χ is the third quest of the Daily Challenge series of Event Quests available from September 12 to 18, 2016.
Enemies
[
edit
]
Enemy types
[
edit
]
Treasures
[
edit
]
Quest walkthrough
[
edit
]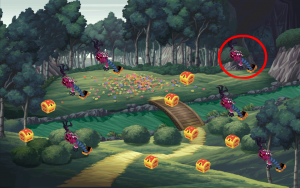 To obtain all of the objectives, the player only has defeat five of the six Pretenders. Using this map and then defeating them in one turn is a sure strategy to get all three objectives in one run.
Kingdom Hearts Unchained χ / Union χ 2016 Event Quests

New Year's Quest! - Earn Jewels, Mirrors, & More!

Event

Corridor of Darkness - Get Gems & More

Event

Corridor of Darkness ★: Round 1/10 • Round 2/10 • Round 3/10 • Round 4/10 • Round 5/10 • Round 6/10 • Round 7/10 • Round 8/10 • Round 9/10 • Round 10/10
Corridor of Darkness ★★: Round 1/10 • Round 2/10 • Round 3/10 • Round 4/10 • Round 5/10 • Round 6/10 • Round 7/10 • Round 8/10 • Round 9/10 • Round 10/10
Corridor of Darkness ★★★: Round 1/10 • Round 2/10 • Round 3/10 • Round 4/10 • Round 5/10 • Round 6/10 • Round 7/10 • Round 8/10 • Round 9/10 • Round 10/10

Defeat Powerful Enemies - Get Medals & Avatars!

Event

Defeat Powerful Enemies to Get Medals

Event

Celebrate Moana - Get an Avatar & Medals!

Event

Beginner • Intermediate • Advanced • Legendary • Fortune's Favor

Get Meowjesty Medals! - Strengthen to get Nova Bonuses!

Event

Medal Quest: Meow Wow • Medal Quest: Flowbermeow • Medal Quest: Meowjesty

Defeat Shadow - Collect Event Coins to get Boost Medals!

Event

Last Halloween Challenge

Event

Earn Event Coins - Get Halloween Avatars!

Event

Frightening Fashion: Beginner • Frightening Fashion: Intermediate • Frightening Fashion: Advanced • Frightening Fashion: Legendary

Fight Halloween Heartless - Get Halloween Sora!

Event

Happy Halloween (Power): Halloween Sora • Happy Halloween (Speed): Halloween Sora • Happy Halloween (Magic): Halloween Sora

Coliseum Challenge Duel Powerful Enemies and Level Up your Keyblades!

Event

One-on-One ★: Round 1/10 • Round 2/10 • Round 3/10 • Round 4/10 • Round 5/10 • Round 6/10 • Round 7/10 • Round 8/10 • Round 9/10 • Round 10/10
One-on-One ★★: Round 1/25 • Round 2/25 • Round 3/25 • Round 4/25 • Round 5/25 • Round 6/25 • Round 7/25 • Round 8/25 • Round 9/25 • Round 10/25 • Round 11/25 • Round 12/25 • Round 13/25 • Round 14/25 • Round 15/25 • Round 16/25 • Round 17/25 • Round 18/25 • Round 19/25 • Round 20/25 • Round 21/25 • Round 22/25 • Round 23/25 • Round 24/25 • Round 25/25
One-on-One ★★★: Round 1/15 • Round 2/15 • Round 3/15 • Round 4/15 • Round 5/15 • Round 6/15 • Round 7/15 • Round 8/15 • Round 9/15 • Round 10/15 • Round 11/15 • Round 12/15 • Round 13/15 • Round 14/15 • Round 15/15

Vanquish Powerful Heartless for a Jack Skellington Medal!

Event

Pumpkin King (Power): Jack Skellington • Pumpkin King (Speed): Jack Skellington • Pumpkin King (Magic): Jack Skellington • Pumpkin King (PSM): Jack Skellington

Get Arabian Scout and Arabian Emerald Avatars!

Event

Be Our Guest!

Event

Jungle Book Event!

Mowgli & Baloo • King Louie

Zootopia: Going the Distance

Event

Round 1/15 • Round 2/15 • Round 3/15 • Round 4/15 • Round 5/15 • Round 6/15 • Round 7/15 • Round 8/15 • Round 9/15 • Round 10/15 • Round 11/15 • Round 12/15 • Round 13/15 • Round 14/15 • Round 15/15 • Bonus Round

Hide and Seek with Alice!

Event

Celebrate KH 2.8 Announcement!

Event

Treasure Hunt

Event

A Collection of Treasure & Materials Pt. 1 • Pt. 2 • Pt. 3 • Pt. 4 • Pt. 5 • Pt. 6 • Pt. 7 • Pt. 8 • Pt. 9 • Pt. 10

Help the Seven Dwarfs

Event

More Monsters in the Mine • Clash at the Cottage • Where's Happy? • Creatures of the Crag

Dress Like Mickey!

Event

Beginner • Intermediate • Advanced • Legendary[JP]

Reoccurring Event Quests

Daily Challenge

Event
7/11-7/17, 2016
Monday • Tuesday • Wednesday • Thursday • Friday • Saturday • Sunday
8/15-8/21, 2016
Enemies in Hiding • Wanted: Pretenders Only! • Special Attack Mastery • Test of Luck: Random Encounters • Gather all the Materials!‎ • Gatherer of Materials • Shun the Strong
9/12-9/18, 2016
Monday • Tuesday • Wednesday • Thursday • Friday • Saturday • Sunday
9/26-10/2, 2016
Monday: Feat of Strength • Tuesday: Skills & Thrills • Wednesday: Skills & Thrills • Thursday: 100 Shadows • Friday: Skills & Thrills • Saturday: Skills & Thrills • Sunday: Feat of Strength
10/10-10/16, 2016
Monday • Tuesday • Wednesday • Thursday • Friday • Saturday • Sunday
10/31-11/6, 2016
Monday • Tuesday • Wednesday • Thursday • Friday • Saturday • Sunday
11/7-11/13, 2016
Monday • Tuesday • Wednesday • Thursday • Friday • Saturday • Sunday
11/28-12/4, 2016
Monday • Tuesday • Wednesday • Thursday • Friday • Saturday • Sunday
12/5-12/11, 2016
Monday • Tuesday • Wednesday • Thursday • Friday • Saturday • Sunday
12/12-12/18, 2016
Monday • Tuesday • Wednesday • Thursday • Friday • Saturday • Sunday
12/26/16-01/01/17
Monday • Tuesday • Wednesday • Thursday • Friday • Saturday • Sunday

High Score Challenge

Event

High Score Event: 7/8 - 7/14 • High Score Event: 7/22 - 7/28 • High Score Event: 8/5 - 8/11 • High Score Event: 8/19 - 8/25 • High Score Event: 9/2 - 9/8 • High Score Event: 9/16 - 9/22 • High Score Event: 9/30 - 10/13 • High Score Event: 10/21 - 10/27 • High Score Event: 11/4 - 11/10 • High Score Event: 11/18 - 11/24 • High Score Event: 11/25 - 12/1 • High Score Event: 12/22 - 12/25

Daily Jewel Challenge

Event
1 • 2 • 3 • 4 • 5 • 6 • 7

Challenge Event

9/19-9/25, 2016

Trial #1: Round 1/5 • Round 2/5 • Round 3/5 • Round 4/5 • Round 5/5 ‡ Trial #2: Round 1/5 • Round 2/5 • Round 3/5 • Round 4/5 • Round 5/5 ‡ Trial #3: Round 1/5 • Round 2/5 • Round 3/5 • Round 4/5 • Round 5/5 ‡ Trial #4: Round 1/5 • Round 2/5 • Round 3/5 • Round 4/5 • Round 5/5

10/24-10/30, 2016

Beginner: Power • Speed • Magic • PSM ‡ Intermediate: Power • Speed • Magic • PSM ‡ Advanced: Power • Speed • Magic • PSM ‡ Legendary: Power • Speed • Magic • PSM

11/14-11/20, 2016

Trial #1: Round 1/5 • Round 2/5 • Round 3/5 • Round 4/5 • Round 5/5 ‡ Trial #2: Round 1/5 • Round 2/5 • Round 3/5 • Round 4/5 • Round 5/5 ‡ Trial #3: Round 1/5 • Round 2/5 • Round 3/5 • Round 4/5 • Round 5/5 ‡ Trial #4: Round 1/5 • Round 2/5 • Round 3/5 • Round 4/5 • Round 5/5

XIII Event

Number 11
Organization XIII No. 11 Marluxia I • II • III • IV • V • VI • VII • VIII • IX • X • XI • XII • XIII

Number 12
Organization XIII No. 12 Larxene I • II • III • IV • V • VI • VII • VIII • IX • X • XI • XII • XIII

Raid Events

Queen Bee • Lure a Green Trident Tail • Raid Level: Legendary! Don't go alone! • Lure a Submarine Carp • Lure a Blue Trident Tail • Lure a Red Trident Tail • Lure a Scourge Spider
Weekend Raid Event: August • September • October • November • December
Defeat the Raid Boss - Get Medals & Avatar Parts: Lure a Behemoth • Lure a Darkside • Lure a Trickmaster • Lure a Trident Tail • Lure a Guard Armor
Year's End Raid! - Get Stylish Avatars!: Monday • Tuesday • Wednesday • Thursday • Friday • Saturday • Sunday

Permanent Event Quests

Proud+ Quests

Power
Proud Quest: Power LV 45 • LV 90 • LV 140 • LV 280 • LV 400 • LV 410 • LV 420 • LV 430 • LV 440 • LV 450 • LV 460
Speed
Proud Quest: Speed LV 45 • LV 90 • LV 140 • LV 280 • LV 400 • LV 410 • LV 420 • LV 430 • LV 440 • LV 450 • LV 460
Magic
Proud Quest: Magic LV 45 • LV 90 • LV 140 • LV 280 • LV 400 • LV 410 • LV 420 • LV 430 • LV 440 • LV 450 • LV 460