Site Notice
Due to recent vandalism, all edits performed by IPs and new users will be reviewed before being published. This means it might take some time for your edit to show up.

Due to an invasion of spam accounts, account creation is currently disabled.
Login Bonus
Jump to navigation
Jump to search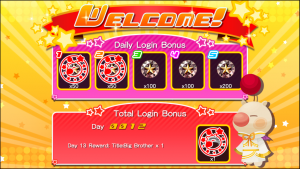 A Login Bonus is a reward given to players for logging into the game daily. These rewards consists of Jewels and Titles. Players get better rewards the more days they log in. Login bonuses are awarded starting at 11:00 UTC.[1]
Special Login Bonuses
[
edit
]
Bonus
Unlocked
1000 Jewels
Back to School Reward in September
Beloved (

大好き


Daisuki)
Total Login Bonus Reward: 4 days
Prince (

プリンス


Purinsu)
Total Login Bonus Reward: 6 days
Princess (

プリンセス


Purinsesu)
Total Login Bonus Reward: 8 days
Baby (

ひよっこ


Hiyokko)
Total Login Bonus Reward: 11 days
Traveler (

旅人


Tabibito)
Total Login Bonus Reward: 12 days
Big Brother (

兄さん


Nī-san)
Total Login Bonus Reward: 13 days
Big Sister (

お姉さん


Onē-san)
Total Login Bonus Reward: 14 days
Handsome (

ハンサム


Hansamu)
Total Login Bonus Reward: 16 days
Socialite (

お嬢様


Ojō-sama, lit. "Lady")
Total Login Bonus Reward: 17 days
Little Boy (

少年


Shōnen)
Total Login Bonus Reward: 18 days
Little Girl (

少女


Shōjo)
Total Login Bonus Reward: 19 days
Sproutling (

萌え


Moe)
Total Login Bonus Reward: 20 days
Absurd (

はちゃめちゃ


Hachamecha)
Total Login Bonus Reward: 25 days
Adonis (

イケメン


Ikemen)
Total Login Bonus Reward: 35 days
Gothic Lolita (

ゴスロリ


Gosu-Rori)
Total Login Bonus Reward: 40 days
Wizard (

魔法使い


Mahōtsukai)
Total Login Bonus Reward: 45 days
Magical (

マジカル


Majikaru)
Total Login Bonus Reward: 60 days
Earnest (

ひたむき


Hitamuki)
Total Login Bonus Reward: 70 days
Mischievous (

いたずら


Itazura)
Total Login Bonus Reward: 80 days
Elusive (

幻の


Maboroshi no)
Total Login Bonus Reward: 90 days
Hard-Working (

バリバリ


Baribari)
Total Login Bonus Reward: 110 days
Fiery (

燃え上がる


Moeagaru)
Total Login Bonus Reward: 111 days
Chilly (

凍てつく


Itetsuku)
Total Login Bonus Reward: 120 days
Booming (

とどろく

Todoroku)
Total Login Bonus Reward: 130 days
Eternal (永遠の
Eien no)
Total Login Bonus Reward: 140 days
Secret (秘密の
Himitsu no)
Total Login Bonus Reward: 160 days
Beautiful (美しい
Utsukushī)
Total Login Bonus Reward: 170 days
Lovable (愛らしい
Airashī)
Total Login Bonus Reward: 180 days
Brimming With (みなぎる
Minagiru)
Total Login Bonus Reward: 190 Days
6★ Toon Moogle
Login Bonus Period: 04/16/18 - 04/17/18
Login Bonus Period: 04/23/18 - 04/24/18
Login Bonus Period: 04/30/18 - 05/01/18
Booster [Toy Story]
Login Bonus Period: 06/30/18 - 07/31/18
Sven Doll
Login Bonus Period: 12/25/18 - 12/26/18
5000 Jewels
Login Bonus Period: 01/01/19 - 02/01/19
Booster [Sora & Peter Pan] +10%
Login Bonus Period: 02/05/19 - 02/28/19
Anna Snuggly
Login Bonus Period: 02/25/19 - 03/01/19
Balloon Dumbo
Login Bonus Period: 03/29/19 - 04/01/19
Booster [Sora, Chip, Dale] +200%
Login Bonus Period: 04/02/19 - 04/30/19
Magic Lamp
Login Bonus Period: 05/24/19 - 05/26/19
June 2019 SP Booster +200%
Login Bonus Period: 06/01/19 - 06/30/19
Booster [Sora & Stitch] +200%
Login Bonus Period: 06/03/19 - 06/30/19
Donald Pouch
Login Bonus Period: 06/09/19 - 06/12/19
Rex Doll
Login Bonus Period: 06/21/19 - 06/28/19
Treasure Trove Booster +2.00
Login Bonus Period: 07/01/19 - 07/31/19
Lady Luck Booster +2.00
Login Bonus Period: 07/01/19 - 07/31/19
Three Wishes Booster +2.00
Login Bonus Period: 07/01/19 - 07/31/19
Sleeping Lion Booster +2.00
Login Bonus Period: 07/01/19 - 07/31/19
Counterpoint Booster +2.00
Login Bonus Period: 07/01/19 - 07/31/19
Fenrir Booster +2.00
Login Bonus Period: 07/01/19 - 07/31/19
Darkgnaw Booster +2.00
Login Bonus Period: 07/01/19 - 07/31/19
Missing Ache Booster +2.00
Login Bonus Period: 07/01/19 - 07/31/19
Diamond Dust Booster +2.00
Login Bonus Period: 07/01/19 - 07/31/19
10000 Jewels
Login Bonus Period: 07/08/19 - 08/05/19
Nala Snuggly
Login Bonus Period: 07/19/19 - 07/22/19
Trait Medal #129 x30
Login Bonus Period: 07/31/19 - 08/19/19
Treasure Trove Booster +2.00
Login Bonus Period: 08/01/19 - 08/31/19
Lady Luck Booster +2.00
Login Bonus Period: 08/01/19 - 08/31/19
Three Wishes Booster +2.00
Login Bonus Period: 08/01/19 - 08/31/19
Sleeping Lion Booster +2.00
Login Bonus Period: 08/01/19 - 08/31/19
Counterpoint Booster +2.00
Login Bonus Period: 08/01/19 - 08/31/19
Fenrir Booster +2.00
Login Bonus Period: 08/01/19 - 08/31/19
Darkgnaw Booster +2.00
Login Bonus Period: 08/01/19 - 08/31/19
Missing Ache Booster +2.00
Login Bonus Period: 08/01/19 - 08/31/19
Diamond Dust Booster +2.00
Login Bonus Period: 08/01/19 - 08/31/19
Marie Snuggly
Login Bonus Period: 08/05/19 - 08/10/19
Treasure Trove Booster +2.00
Login Bonus Period: 09/01/19 - 09/30/19
Lady Luck Booster +2.00
Login Bonus Period: 09/01/19 - 09/30/19
Three Wishes Booster +2.00
Login Bonus Period: 09/01/19 - 09/30/19
Sleeping Lion Booster +2.00
Login Bonus Period: 09/01/19 - 09/30/19
Counterpoint Booster +2.00
Login Bonus Period: 09/01/19 - 09/30/19
Fenrir Booster +2.00
Login Bonus Period: 09/01/19 - 09/30/19
Darkgnaw Booster +2.00
Login Bonus Period: 09/01/19 - 09/30/19
Missing Ache Booster +2.00
Login Bonus Period: 09/01/19 - 09/30/19
Diamond Dust Booster +2.00
Login Bonus Period: 09/01/19 - 09/30/19
4000 Jewels
10 Draw Tickets
Login Bonus: 09/03/19
1000 Jewels
5 SP Chip & Dale
Login Bonus: 09/04/19
1000 Jewels
10 Power Gems
Login Bonus: 09/05/19
1000 Jewels
10 Draw Tickets
Login Bonus: 09/06/19
1000 Jewels
10 Speed Gems
Login Bonus: 09/07/19
1000 Jewels
5 Dual Meow Wow [SAB LV 9]
Login Bonus: 09/08/19
1000 Jewels
10 Magic Gems
Login Bonus: 09/09/19
4000 Jewels
20 Draw Tickets
Login Bonus: 09/10/19
Booster [Graveyard] +200%
Login Bonus Period: 10/01/19 - 10/31/19
1000 Jewels
30 Power Gem
30 Speed Gem
30 Magic Gem
KH III Riku Doll
Login Bonus: 10/11/19 - 10/31/19
Fantasia Mickey Snuggly
Login Bonus Period: 11/18/19 - ???
Olaf Ornament
Login Bonus Period: 11/22/19 - ???
Winter Mickey Snuggly
Login Bonus Period: 12/25/19 - ???
5000 Jewels
Login Bonus: 01/01/20 - 02/01/20
4800 Jewels
Login Bonus: 01/23/20 - 03/01/20
Balloon Gingerbread House
Login Bonus Period: 02/07/20 - 03/01/20
10000 Jewels
Login Bonus: 04/07/20 - 05/01/20
10 Draw Tickets
Login Bonus: 05/01/20 - 6/1/20
Notes and references
[
edit
]