Site Notice
Due to recent vandalism, all edits performed by IPs and new users will be reviewed before being published. This means it might take some time for your edit to show up.
New accounts also have to be confirmed before being created.
If you have any questions, contact one of the staff members on their talk page, or on the Discord server.
Daily Challenge Event (09/14/2017)
Jump to navigation
Jump to search
| | | |
| --- | --- | --- |
| « | Daily Challenge Event | » |


Maps: Garden Maze, The Queen's Castle
AP
Level
Raid Boss
0[1]
100
Guard Armor
Target
Yellow Opera
EN Objectives
Complete within 80 seconds
80 Jewels
Complete within 60 seconds
100 Jewels
Complete within 40 seconds
1 Chip 6★
EN Quest Rewards
Materials
None
None
JP Quest Rewards
None
Daily Challenge Event in Kingdom Hearts Unchained χ / Union χ is the fourth quest of the twenty-ninth Daily Challenge series of Event Quests.
Enemies
[
edit
]
Enemy types
[
edit
]
Treasures
[
edit
]
None
Quest walkthrough
[
edit
]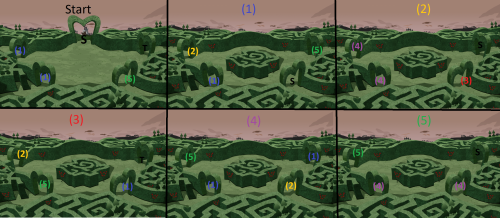 The fastest way to get to the Target, besides beating the LV 500 Possessors, is to take the bottom left (or top left) exit, ending up in the room with the Blue Rhapsodies. From here, take the top left exit to end up in the room with Yellow Operas. Now take the bottom right exit to end up in the room with Red Nocturnes. Finally, take the top right exit to reach the target.
Notes and references
[
edit
]
↑

This quest coincided with a 0 AP event